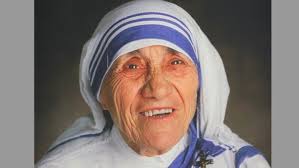 A FAMOUS QUOTE OF MOTHER THERESA
"IT'S NOT HOW MUCH WE DO,
 BUT
 HOW MUCH LOVE WE PUT IN THE DOING.....
 IT'S NOT HOW MUCH WE GIVE
 BUT
 HOW MUCH LOVE WE PUT IN THE GIVING...."
From'1910-1997″Mother Teresa was born in 1910 In"SKOPJE "CAPITAL OF"REPUBLIC OF MACEDONIA".
She took her formal religious vows in "1931"to India.
The wide spread poverty in CALCUTTA led her to start "MISSIONARIES OF CHARITY"
QUOTE 
"LOVE CANNOT REMAIN BY ITSELF
 IT HAS NO MEANING
 LOVE HAS TO BE PUT IN TO ACTION
 AND 
 THAT ACTION IS CALLED SERVICE" 
1948,MOTHER TERESA left the convent to live full time among the poorest of Calcutta.
1952,She opened her "FIRST HOME FOR THE DYING WHICH ALLOWED PEOPLE TO DIE IN DIGNITY".
She took a strict line on "ABORTION,DEATH PENALTY AND DIVORCE".
In 1960,The life of MOTHER TERESA was first brought to a wider public attention by "MALCOLM MUGGERIDGE" who wrote a book called "SOME THING BEAUTIFUL FOR GOD".
In 1979,she was awarded "NOBEL PEACE PRICE" For the struggle to overcome poverty and distress.
QUOTE 
"THE HUNGER FOR LOVE IS MORE DIFFICULT 
 TO REMOVE
 THAN THE HUNGER FOR BREAD"
In 2003 OCTOBER MOTHER TERESA was "FORMALLY BEATIFIED" by "JOHN PAUL 2nd POPE"
Now known as "BLESSED TERESA OF CALCUTTA".
MY FAVORITE QUOTE 
"WHEN ASKED MOTHER THERESA HOW TO PROMOTE WORLD PEACE,
 SHE REPLIED
 GO HOME AND LOVE YOUR FAMILY"